Discover the I.D. Buzz, Volkswagen's New Microbus Concept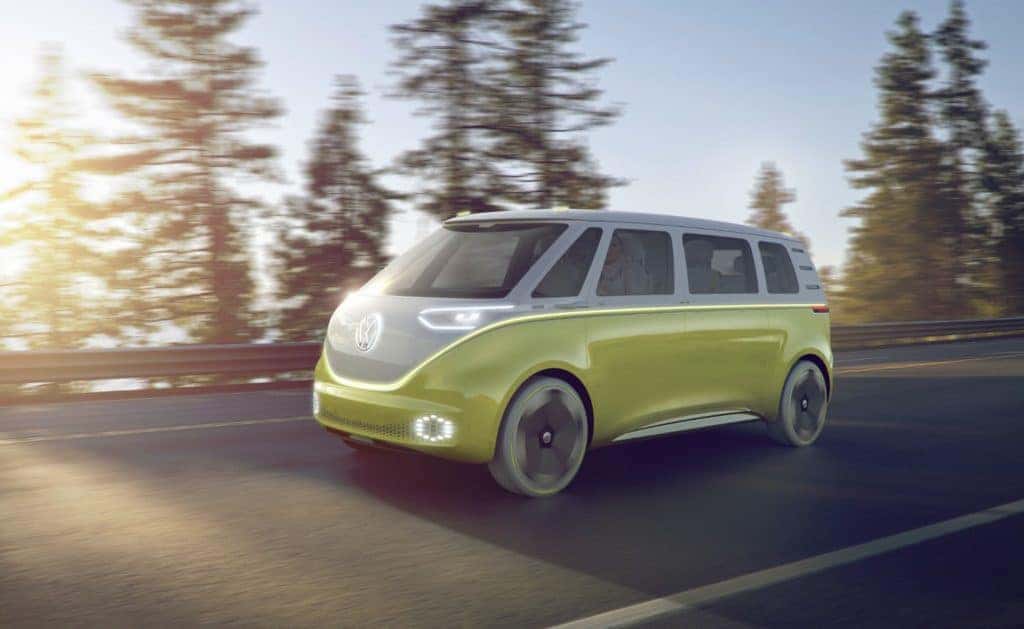 At first, Volkswagen teased the idea of a microbus return, and it seems like that long dream had finally come true. At this year's Detroit Auto Show, Volkswagen unveiled an intriguing new microbus concept called the I.D. Buzz. Let's take a quick look at this model and everything gleaned from its appearance at the show.
The Basics
The I.D. Buzz will be a fully electric microbus with an eclectic but welcoming appearance. As for the unusual name, it's actually a bus alternative to the current I.D. model, another recently unveiled concept of a van-like bus. Both take inspiration from the original VW Bus from 1950 while also adding more power and features, setting it on pace with other current vehicles in safety and comfort.
A New Look
Volkswagen has introduced two bus concepts in the past after the days of models like the Type 2, like the VW Microbus in 2001 and the Budd-e in 2016. When compared to these, the U.D. Buzz has the look of a model that's already released. A new sleek style gels with the returning classic VW bus traits, like a chrome belt line, while steering away from the round headlights or split windshield of the previous concepts.
Driving Not Required
One thing that makes the I.D. and I.D. buzz extra-special is that they are designed to be driven either traditionally or autonomously. Volkswagen's system incorporated scanners, ultrasonic sensors, radar, and cameras to constantly gather data. To really define and accommodate both of these modes, drivers will be able to retract the spoke-less steering wheel and relax with more room during the autonomous mode, sending it back out once driver mode is enabled.
Awesome Powertrain
The I.D. Buzz has a longer version of the I.D.'s initial platform, made to fit not just extra people but an intense powertrain. Two electric motors are powered by a 111-kilowatt battery pack with a maximum range of 270 miles from a full charge. It even uses quick-chargers to jump up to 80 percent power when you really need to get going. Best of all, this microbus is said to reach 369 horsepower and can go from 0-60 miles per hour in five seconds. The I.D. buzz also uses four-wheel drive, making it a real adventurer's vehicle on top of a fast highway commuter.
Other Possibilities
While the I.D. Buzz was made to impress, Volkswagen smartly explained that it would be very easy to create more affordable, slightly lower-performance versions of this race-worthy version seen at the auto show. A model could be made, as their example, with an 83-kilowatt battery pack and one electric motor, pumping out a great but less intimidating 268 horsepower.
If anything, it seems that VW has found a standard to set a new microbus generation, as the I.D. vehicles have great visual appeal and potential to broaden out into a small family of models. The I.D. Buzz is softly projected to release sometime in 2021, a year after the release of the regular I.D. For now, please contact us if you have any questions about current VW models.